Siempre quise ser una reinona del Pop
Creo que es influencia de mi hermana, por darme la brasa con el "True Blue" a toda castaña los sabados por la mañana y esos horrible posters de la SuperPop que tengo un trauma con la musica fresa de los ochenta. Desde Duran Duran hasta Rick Ashley, pasando por New Kids on the Block y todo esa masa de grupos clonicos.
En fin, que algo de ese gusto por lo hortera se ha quedado. Ya lo sabia yo que tantos visionados de "Who's That Girl?" no eran buenos...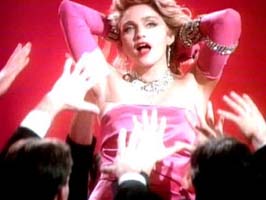 Some boys kiss me, some boys hug me
I think they're O.K.
If they don't give me proper credit
I just walk away
They can beg and they can plead
But they can't see the light, that's right
'Cause the boy with the cold hard cash
Is always Mister Right, 'cause we are
Living in a material world
And I am a material girl
You know that we are living in a material world
And I am a material girl
Some boys romance, some boys slow dance
That's all right with me
If they can't raise my interest then I
Have to let them be
Some boys try and some boys lie but
I don't let them play
Only boys who save their pennies
Make my rainy day, 'cause they are
Dibujado por Dex-Clone