Clásicos de los CRPG: Bloodwich
Uno de los juegos de rol de ordenador que recuerdo con más cariño es el Bloodwich.
Corría el año 1989, y una compañía llamada Image Works se arriesgó con el primer juego de rol que permitía dos jugadores simultáneos, desde la misma máquina.
A pesar de la novedad, la versión de dos jugadores era más una anécdota que algo realmente viable. Tengamos en cuenta que el juego requería muchísimas horas de juego, y su desarrollo, como explicaré más adelante, era muy lento, por lo que difícilmente tendríamos a otra persona dispuesta a jugar al mismo tiempo.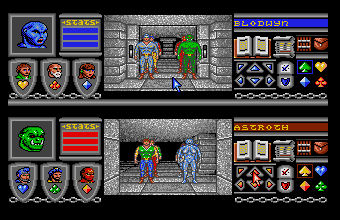 Esto es multijugador, y no el Counter-Strike ese...
El juego era en primera persona (o lo que entonces se conocía por primera persona), en un descomunal mapa cuadriculado. Llevabas un grupo de cuatro aventureros a escoger entre 16 (combinación entre 4 profesiones y 4 elementos). En realidad, la versión PC tenía un bug que hacía que, si no comenzabas la partida con kickstart (es decir, el equipo por defecto), a medio juego aparecía un bug (en realidad, un muro donde no debía estarlo) que te impedía continuar el juego. Ahora, como informático, me pregunto como se puede producir un error tan chorra programando, de forma que el mapeado se corrumpa.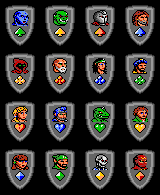 Los 16 personajes, el "palo" de la baraja determinaba la profesión, el color, la esfera mágica.
Al estilo Eye of the Beholder, no podías separar el grupo ni nada parecido. El juego era dificilísimo, y muy poca gente logró pasárselo.
Los combates eran extremadamente difíciles, y la única forma de derrotar a unos enemigos hiperhormonados (tenían aproximadamente unas 100 veces tu vida) era llevarlos a algún lugar amplio y tener un buen juego de manos para atacar, desplazarte, girarte, atacar, y seguir con el bucle, a veces durante media hora (ellos, en cambio, necesitaban dos golpes para matarte).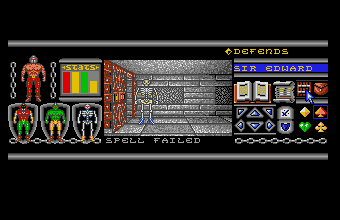 Parece un simple esqueleto, pero es 100 veces más resistente que tú, y te mata con un golpe.
Por otra parte, estaban los enigmas. El juego estaba hecho con muy mala leche. Y en esa época no existían los mapas, por lo que, para conseguir orientarse, uno tenía que dibujar el mapa en un papel cuadriculado (ey, aún los tengo por casa), con el pequeño problema que palancas o baldosas hacían desaparecer o aparecer paredes o columnas, etc.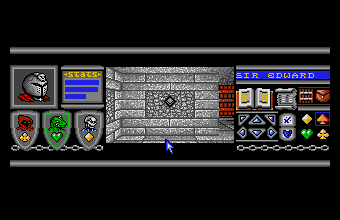 Una de las centenares de palanquitas que adornaban el juego, poniendo o quitando muros, columnas, etc.
Y los spinners. A partir de la cuarta parte del juego entran los spinners. Los spinners son baldosas giratorias, colocadas en lugares estratégicos (pasillos simétricos, cruces en X, etc) para que, aunque la baldosa te gire, tu pantalla parezca la misma.
De esta forma, uno no se percataba del giro (hasta que me acostumbré a dejar caer objetos al suelo cuando veía algo sospechoso), y seguía apuntando su mapa hasta que se daba cuenta que algo fallaba, que era imposible que el pasillo siguiera recto ya que sobreescribía parte hecha del mapa. Y, entre maldiciones, buscar el problema y volver a dibujar el mapa del nivel. Mejor no os hablo de los transportadores...
El interfaz del juego, aunque simple, era bastante completo. Podías incluso hablar con los enemigos y demás personajes (por regla general, cualquier personaje que no estuviera en una tienda, era un enemigo). Necesitabas comida y agua para subsistir, disparabas flechas, y recogías algunas, etc. Un juego muy completo.
Yo fuí uno de los pocos que consiguieron pasárselo, ya que el juego exigía mucha paciencia y perseverancia. Al final, después de 3 inmensos niveles subterráneos, dos niveles superiores y 5 torres, cada una con unos 10 niveles (aunque más cortos), llegué hasta el Bloodwich, el malo maloso. Lo maté, después de media hora de mucha paciencia, y mi recompensa fue una simple pantalla en negro, con las palabras, en verde: "Congratulations. You have defeated Bloodwich".
Y, a pesar de lo soso del final, nunca he encontrado un final que me hiciera sentir mejor.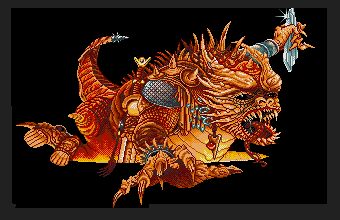 El bicharrajo final, tal y como te lo indicaban en la presentación. En el juego se parecía más a un amasijo caótico de píxeles.
Posted by dondepre at Marzo 3, 2004 02:16 PM