Benicassim 2004, Morrissey is dead
FIB Benicassim, sábado 7 de agosto, 20 horas: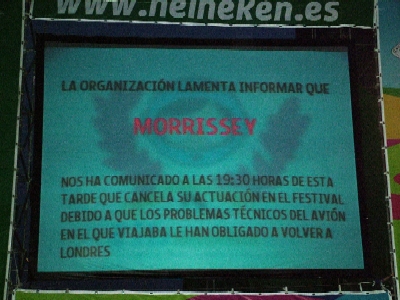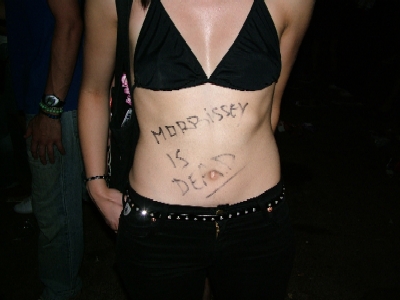 En el foro más completo sobre Mozz, poco más que lo dicho por la organización del FIB.
Actualización: Comunicado de la discográfica de Mozz en el cuerpo extendido del post. (Gracias Loftof74)
Statement on Benicassim
August 9, 2004 Due to a technical problem with our airplane on Saturday, we were forced to return to London rather than continue on our way to Spain. We offered to play on Sunday and had booked other flights, but the festival was unable to accomodate us - thus we were forced not to play.
Morrissey and the band were very much looking forward to playing at Benicassim, and will return to Spain as soon as new dates can be arranged.
Sanctuary Artist Management
Flashman dixit, Agosto 8, 2004 09:17 PM | TrackBack | Permalink